In the seventh hour of Dragon Age: Awakening, WHAT IS THAT THING and then YOU HAVE A CHILD??? and then NOPE NO NO NO NO and then GET AWAY FROM ME. Intrigued? Then it's time for Mark to play Dragon Age.
Hour Seven
"All right!" I thought. "I got all my quests done in Knotwood, time to head back to Vigil's Keep to get some smaller missions done, sell my stuff, get some enchanting done, and otherwise be totally prepared. Wait, what's this? A cutscene? Well –
WHAT THE FUCK!
WHAT THE FUCK ARE YOU
OH MY GOD IS THAT THE MOTHER
WAIT, IS THIS THE SAME PLACE WHERE WITCH'S KEEP ENDED? IT TOTALLY IS.
NO, WHAT OTHER TRICKS IS SHE PLANNING FOR ME?
I mean, what the hell am I supposed to do with this new information? Sit here and cry, probably. Oh, I am not excited about fighting that thing.
All right, so I did make it back to Vigil's Keep to take care of one of the billion quests I had active. (I counted: 34 active quests at once.) I gave Master Wade some of the Ore I'd found in Kal'Hirol, and he gave me another quest. Apparently, he likes me and wants to make something ~super special~ for me. I'm not gonna deny him that opportunity.
I also met Dworkin, that dwarf from the opening sequence who blew up a bunch of darkspawn! I'd found something new called "lyrium sand" in Kal'Hirol, and it turns out it helps him make bombs. Awesome! So now I can drop off lyrium sand with him, and he gives me these sweet bombs that I'm excited to use.
Once I went back into the throne room, another cutscene was triggered, this one between Oghren and a new dwarf named Felsi. (At least I think she's new, as I don't remember her.) She was very angry at Oghren for abandoning the dwarves to join the Grey Wardens. I largely stayed out of the conversation because it wasn't my business. Felsi huffed away, frustrated, but not before dropping a bombshell: OGHREN HAS A KID HE LEFT BEHIND. What the fuck, dude??? So now I've got a mission to "talk" with him. I tried to do it immediately, but he magically became shitfaced in the ten seconds it took me to start a conversation with him. Ah, Oghren, I shouldn't be surprised.
I also took some time to talk with Sigrun, and we conversed about books. It was a neat conversation! I kind of don't want to find out what an Antivan Milk Sandwich is.
So, off I went for adventures! I took my party (minus Nathaniel, just because I didn't think I'd need an archer or a runecrafter for what I was doing next. I headed down to see what had happened after the rubble was cleared from the basement.
Hey, this literally does not look safe at all. You go down that ladder, Sergeant! But no, I'm the hero, so I have to climb down rickety ladders for the good of humanity. I was about to say that Roslin isn't paid enough to do this shit, and then I remembered that I had like 280 sovereigns. HELL YEAH.
I found that Korth offering table, and I gave it a gold statue. I got this wicked axe called Frenzy, and those creepy golems didn't wake up.
And then shit gets weird. At one point, I read a plaque that mention someone named Avvar, and whomever fought this dude hates Avvar. Who is Avvar? What did he do???
WHAT IS THIS ROOM. I AM FRIGHTENED.
hAHA; A;A DASFK;LJ ASD; AS;DFJ I DON'T EVEN KNOW HOW TO PRONOUNCE THE NAME OF THIS MONSTER H E L P
YOU COULD NOT GIVE THIS THING A MORE ABSTRACT AND RIDICULOUS NAME. It's teasing me just by existing. Like, it knows I am curious enough to do something with it, and it's name also warns me not to do anything with it.
OH. GREAT. I LET A WRAITH LOOSE. WHY DID I DO THIS.
So I chased after the thing, and it led me straight into a group of darkspawn and something called an Ogre Commander. AWESOME. Oh my god, I had to Feint Death again because he wouldn't leave me alone. (Incidentally, Oghren leveled up immediately after the Ogre died, and he got that awesome skill where he draws all enemies toward him. BAH, I NEEDED THAT JUST 30 SECONDS EARLIER.) But then we killed it!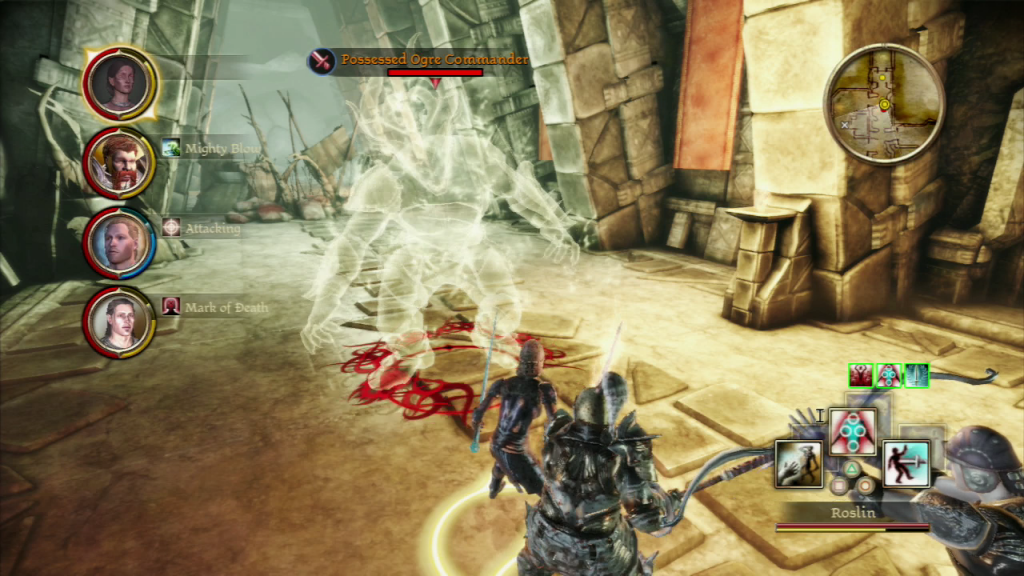 AND IT IMMEDIATELY GOT POSSESSED BY THE WRAITH. GODDAMN IT.
But then victory! The door to the Deep Roads was sealed. WE ARE SAFE.
I managed to get one last thing done before my hour was up. I had to hold court with Varel, which is basically me acting as a judge. I was given three cases in succession.
First up was Alec, who stole grain in order to feed his family. I chose to spare his life and conscript him into the army so that he could work off his debt and feed his family.
Ser Derren was next, and I took Varel's advice to win over the nobles. Using my super high Persuasion, I told Ser Derren that while the law did not favor him, I'd make it up to him. He seemed satisfied with that.
And then there was Ser Temmerly. It's through this that I learned he probably killed Ser Tamra! UGH, no, you bigot. But could I just outright execute him without anything other than circumstantial evidence? I chose to throw him in jail for a "very, very, very long investigation."
So, there's still a conspiracy against my life, but now Ser Tamra is dead, and I can't get information from her. I guess I'll have to go back to Amaranthine to find the Dark Wolf and talk to him. Onwards I go!
Mark Links Stuff
– You can follow me on Twitter for any updates and live commentary on upcoming reviews I'm writing.
– You should read this very important post about supporting Mark Does Stuff!
– Video commissions are just $25! You can commission me to read, watch, or play anything for current, past, or upcoming projects right here!
– I have just released Mark Reads Harry Potter and the Half-Blood Prince for $4.99!
– I've started reading The Shoebox Project for Mark Reads, the first fanfic "series" I've ever covered!
– Both Mark Reads Harry Potter and the Order of the Phoenix and Half-Blood Prince are now available in paperback form!